DUCKHORN Three Palms Merlot 2015 - 0,75 Liter- 94 Points Wilfred Wong of Wine.com
Limitierte Menge - auf Anfrage!


Dieser Wein zeigt, was man von einem legendären Weinberg in einer außergewöhnlichen Wachstumssaison erreichen kann, und entfaltet faszinierende Aromen von frischen Preiselbeeren, Blaubeeren, Feigen, Zedern und Kakaonibs.

91% Merlot, 7% Cabernet Sauvignon, 1,5% Petit Verdot, .5% Cabernet Franc;

Küferei: 100% französische Eiche, 75% neue Eiche, 25% Neutral
94 Points - Wilfre Wong of Wine.com
COMMENTARY: Yes, I was around when the 1998 Duckhorn Vineyards Three Palms Merlot was release. I bought and sold three cases of the inaugural release, and I have enjoyed that wine many times through the decades. The 2015 vintage is another star from this special vineyard site.
TASTING NOTES: This wine is intense, built, and well-structured; Its aromas and flavors of rich, ripe fruit should pair it well with a crown roast of lamb. (Tasted: September 10, 2018, San Francisco, CA)
93% Merlot, 6% Cabernet Sauvignon, 1% Malbec; Böttcherei: 100% französische Eiche - 75% neu, 25% neutral.


Seit dem ersten Jahrgang 1978 ist Duckhorn stolz darauf, von einem Weinberg bestimmten Merlot aus dem legendären Three Palms Vineyard herzustellen. Dieser warme, talaufwärts gelegene Weinberg, der nach seinen drei berühmten Palmen benannt wurde, weist magere Böden auf, auf denen die Reben tief nach Nährstoffen suchen und einen zutiefst intensiven und altersgerechten Wein mit komplexen Frucht- und Mineralschichten hervorbringen. Als Beweis für seinen Status als Maßstab für New World Merlot hat Wine Spectator 2017 den Three Palms Vineyard Merlot 2014 als
"Wein des Jahres"
ausgezeichnet.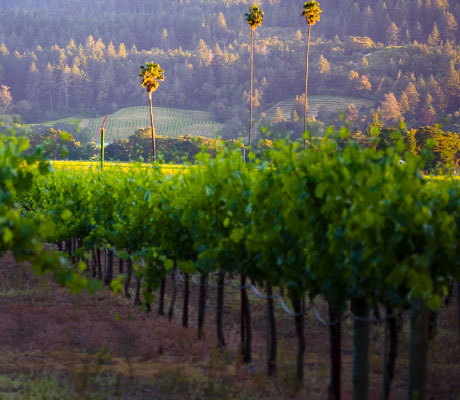 Drei Palmen - Weinberg
---
---