DUCKHORN Napa Valley Three Palms Merlot 2017 - 0,75 Liter - #15 wine of the year 2020 Wine Spectator
91% Merlot, 5% Cabernet Sauvignon, 2% Malbec, 1% Cabernet Franc, 1% Petit Verdot
Calistoga, Napa Valley
100% französische Eiche - 75% neu, 25% neutral
96 Points- Wine Spectator
A great wine:

Powerful, rich and complex, with a

refined mix of currant, dark cherry and

plum tart flavors backed by suave,

medium-grained tannins.

Well-defined slate and loamy notes

stretch out nicely on the finish, with

black olive hints.

93 Points - Wilfred Wong, Wine.com
The multifaceted 2017 Duckhorn Vineyards Three Palms Merlot is a standout wine. TASTING NOTES: This wine deftly combines black fruits and graphite in its aromas and flavors. Enjoy its firm and expansive palate with a juicy, grilled ribeye topped with minced shallots and many grinds of whole black peppercorns.


Seit dem ersten Jahrgang 1978 ist Duckhorn stolz darauf, von einem Weinberg bestimmten Merlot aus dem legendären Three Palms Vineyard herzustellen. Dieser warme, talaufwärts gelegene Weinberg, der nach seinen drei berühmten Palmen benannt wurde, weist magere Böden auf, auf denen die Reben tief nach Nährstoffen suchen und einen zutiefst intensiven und altersgerechten Wein mit komplexen Frucht- und Mineralschichten hervorbringen. Als Beweis für seinen Status als Maßstab für New World Merlot hat Wine Spectator 2017 den Three Palms Vineyard Merlot 2014 als
"Wein des Jahres"
ausgezeichnet.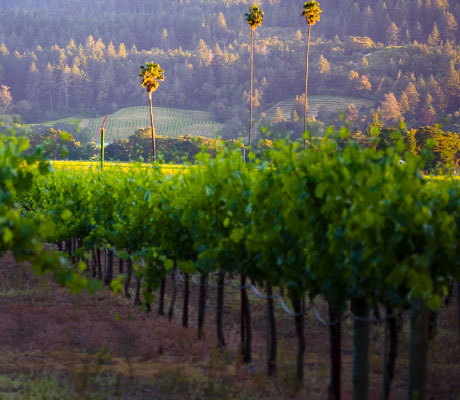 Three Palms Weinberg
---
---